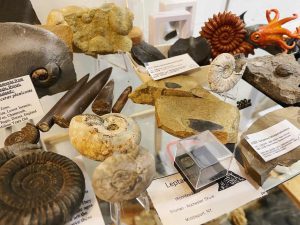 Date: 28 May 2022 (Saturday)
Time: A) 14:00 – 15:15 or B) 15:45 – 17:00
Location: Timeless – TFC, Room 5A, 5/F, 33-35 Au Pui Wan Street, Fo Tan, N.T.
Capacity: 15 pax for each timeslot.
Trudy Kwong will talk about the formation of fossils, geological timescale, and evolution of species. Edmond Ng will introduce his fossil collection.
Please note that participants must abide by the rules set by the government and the activity venue, and are adviced to use "Leave Home Safe" app, and download the COVID vaccination record for checking.  Participants must wear surgical mask.
Reservation deadline : 22 May 2022
Trudy Kwong will contact all participants on 23 May 2022 to confirm the time slot.
Reservation : https://forms.gle/wKSjtJdZkaY8vJyDA